1 చిట్యేలి మండలం లొ ప్రజా విద్యాలయాల కు మరియు గ్రామ స్తాయిలో ని పాఠశాలలకు సహకారాన్ని అందించి అభివృద్ధి సాదించడం .
2 ప్రజా వైద్యశాలల కు సహాయం చేసి మండల ప్రజలకు మెరుగైన వసతులు కల్పించడం
3. పర్యావరణ కు చెట్లు నాటించడం , పరిశుభ్రత పాటించడం .
4. ఇంకా అందరికీ సంబంధించిన సహాయాలు సహకారాన్ని అందించడం .
5 సొసైటీ సహాయం అందించడానికి అవసరమైన ధనం సమీకరించడం దాన్ని అభివృద్ది చేయడం .
చిట్వేల్ హెల్ప్ లైన్ సొసైటీ యజండ కార్యాచరణ విదానం:
1. స్వార్ధ చింతన లేకుండా ,
2. కులం భేదం చూపకుండా,
3. మతాలకు అతీతంగా,
4. రాజకీయ పార్టీలకు దూరంగా,
5. ప్రాంతాల ఐక్యతతొ నిజాయతీ తొ మండల అభివృద్ధి కై మానవసేవే మాధవ సేవ నినాదంతో , సమాజం అభివృద్ధి దేశ ప్రగతి అనే నమ్మకం తొ వ్యవహరించడం .
ప్రమాణం
నేను నమ్మిన దైవం సాక్షి గా (భగవద్గీత , ఖురాన్ , బైబుల్) ఎటువంటి స్వార్ధం లేకుండా ఈ సంఘం లో ని నిబంధనలకు అనుగుణంగా నడుచు కుంటానని సభ్యునిగా ప్రమాణం చేస్తున్నాను
జై హింద్
Helping People Make This World A Better Place.
What have you given today..!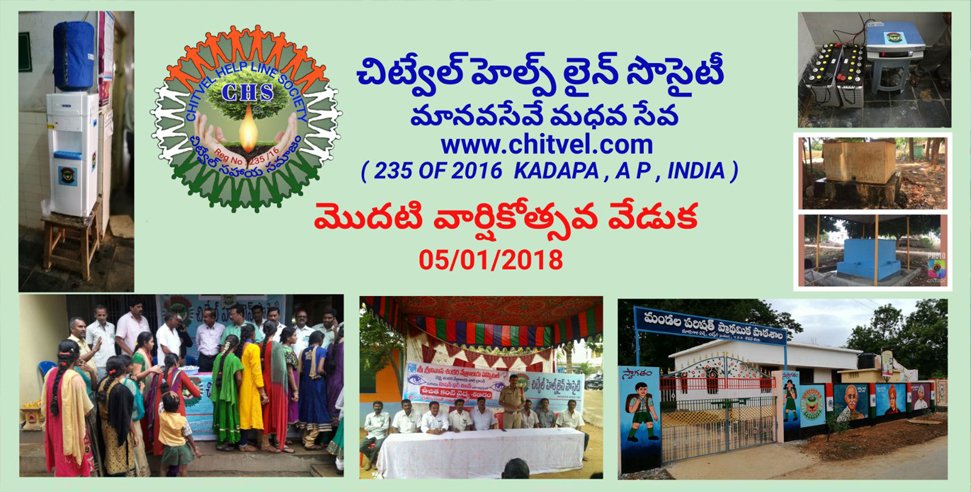 Our Vision
CHS Trust Programmes
1. Our Main aim to develope Education in the Chitvel Mandal as well as in rural Villages and Town itself.
2. As a Welfair Society we Strive to help the Hospitals to provide the basic needs of Health Department to improve the best quality services to the sorrunding people.
3. CHS is always very passionate to make the town and Villages to keep maintain the Greenary as much as polution free by planting.
4. CHS seek and Heartfully welcome to controbutors and members to support the society to help the our nation and next generation.
5. As well as we are addressing to support the farmars, women and kids by providing such programmes to inhance their skills development.
6. We Proud ourself and strongly belive we set the model for the feture generations to help own self as well as for the society and to Financial Growth.
The Process of Work
CHS Promise to the society behalf of Heart and Soul Manava Seve – Madava Seva
1. Without any partiality and no politics involude
2. No Cast or religion feelings.
3. Very far away fromm political parties and combined villages to build the unity of trust and honesty.
4. We are didicating to work for Town and villages development with transprent accountabality that every member can understand.
Manava Seve – Madava Seva
CHS Media team snaped some of working still photos to share in social media channels. Please linke and share them among your network.
https://www.facebook.com/chitvelhelplinesociety
If you are driven by our vision and want to work with us, please submit your CV to chitvelhelplinesociety@gmail.com and we will let you know when suitable jobs available.